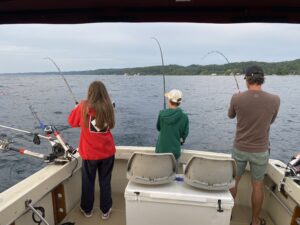 What is great about owning a charter fishing operation on Lake Michigan is all the families we get to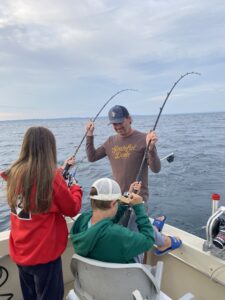 spend the day with.
On this day Captain Dylan needed a little help. They hooked into a double! When fishing on Grand Traverse Bay doubles happen more than one would think. When the fish are big sometimes Dad needs to step in and give the kids a hand while Captain Dylan steers the boat to avoid getting the fish tangled in other lines. When charter fishing in Traverse City on Grand Traverse Bay you might be surprised by the salmon, lake trout or steelhead that you hook up. Even when you have a fish or two on the line it is always possible to get another fish to bite. On days when the fish are biting the family needs to work together to land all the fish, even more so when a double happens. When the lines of one reel starts to scream out drag it gets exciting, but when a second line starts to scream drag the excitement level doubles. When you hook into a double the whole family needs to get involved. You need family members to start reeling in the lines with fish on the end of the lures. As in this case, you need dad to help hold the rods. Another family member needs to take photos and video so everyone can relive the excitement over and over again. All the while the captain is driving the boat, moving lines from rod holder to rod holder and grabbing the net to eventually land the fish. Just when you think the day of fishing couldn't get any better, can you guess what happened?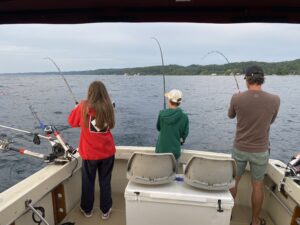 A triple header! You never know how good the fishing can be on Grand Traverse Bay until you get out on the Leelanautical and see what Traverse City Fishing Family Fun is all about. We hope to take you and your family fishing for a fun time on the water in 2023.