Lake Michigan Fishing Charter Reviews
Don't just take our word for it, see what our past fishing charters guests had to say about their experience with Reelin Leland Fishing Charters on one of the review sites listed below, or leave us a review on this page below the links, to provide us with your valuable feedback!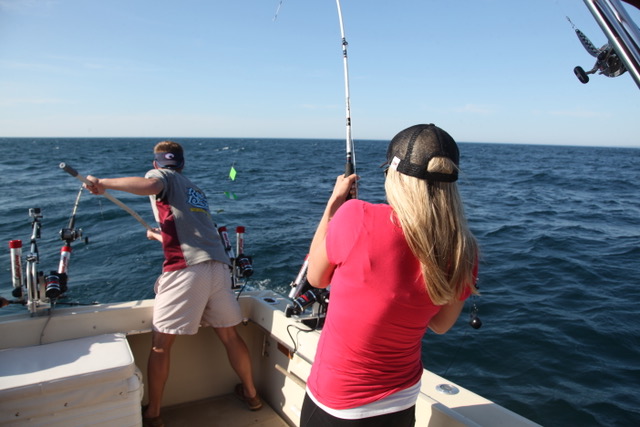 Any questions? Give us a call at 231-866-0053 or fill out the form on our contact page.
View Our FishingBooker Reviews
Reelin Leland Fishing Charters
Average rating:
18 reviews
May 30, 2023
Best Sunday Fishing
Had a great morning with Captain Tony and Captain Chris! Kyle, Nathan, Ben and I boated 6 great fish, with 2 of them being beasts!
We had plenty of laughs a certainly made some great memories, thanks again!
May 30, 2023
Amazing Experience
I was a part of a group of six for a bachelor party. Captain Tony was great and gave us a wonderful experience fishing. We limited out for lake trout in under an hour.
May 30, 2023
Great family fishing trip
Reelin' Leland Fishing Charters was a great experience
Captain Tony brought us to a great fishing location where we doubled up immediately. The lake trout were big and beautiful (and delicious), and Captain Tony was very professional and knowledgeable. Highly recommended for families who want some adventure on the big lake and a chance to catch fish they will remember.
Jun 6, 2022
Great experience
This was our second time out with Captain Tony. Our group had a great time and caught our limit of lake trout both times. Captain Tony did a great job communicating before the trip and really catered to the needs of our group.
Williams and Thomas and McPhee families
Jun 6, 2022
Great experiemce
All of our family members had the greatest experience on the charter fishing trip. Reelin Leland is a great choice to go with if you want a friendly fishing experience . Highly recommended to go with Captain Tony and his crew.
Jun 4, 2022
Graduation gift
We went out on Memorial Day as a gift for our HS graduate. He wasn't expecting to catch the amount of fish we got but he was really surprised how big they were in the "lake"! Tony and Dillon were awesome! Professional, fun and very knowledgeable! They know right where to go for the fish. They fileted and packaged them on our return. We highly recommend going with Reelin Leland!
Jun 2, 2022
Amazing Morning of Fishing
My daughter and I had a fantastic time on the water with Captain Tony & Dillon. They got us right on the fish within 20 minutes of leaving the dock! We caught our limit of lake trout quickly and had a wonderful time. Great new boat!
Jun 2, 2022
Fabulous Time
This is the third time I have used Captain Tony for fishing excursion. Everyone had a wonderful time and caught many fish. I highly recommend ReelinLeland!!!
Jan 7, 2022
Awesome charter!
I highly recommend Captain Tony and first mate Garret , they are very knowledgeable on where to find the fish. They make it fun for people of all ages.
Jan 7, 2022
Greatest fishing is with Capt. Tony and Garrett!!
As usual Capt. Tony and Garrett didn't disappoint. We brought some friends from Texas to fish with us for the day. Wonderful experience catching 11 King salmon with 1 being a record fish. Friendly and knowledgeable team!!! We had the ultimate charter fishing day!! Thanks again Tony and Garrett! You are the best!