Lake Michigan Fishing Charter Reviews
Don't just take our word for it, see what our past fishing charters guests had to say about their experience with Reelin Leland Fishing Charters on one of the review sites listed below, or leave us a review on this page below the links, to provide us with your valuable feedback!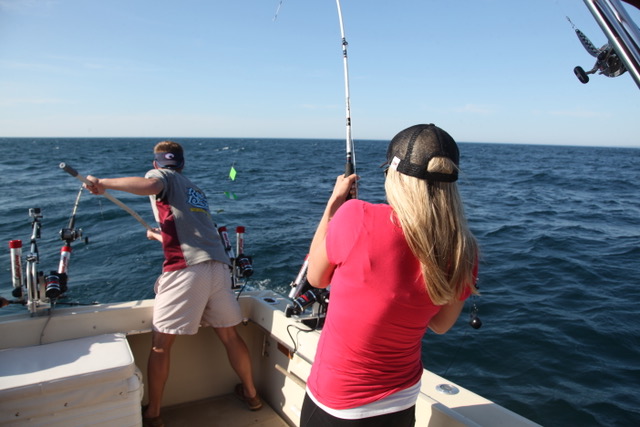 Any questions? Give us a call at 231-866-0053 or fill out the form on our contact page.
View Our FishingBooker Reviews
Reelin Leland Fishing Charters
Average rating:
10 reviews
Jan 7, 2022
Awesome charter!
I highly recommend Captain Tony and first mate Garret , they are very knowledgeable on where to find the fish. They make it fun for people of all ages.
Jan 7, 2022
Greatest fishing is with Capt. Tony and Garrett!!
As usual Capt. Tony and Garrett didn't disappoint. We brought some friends from Texas to fish with us for the day. Wonderful experience catching 11 King salmon with 1 being a record fish. Friendly and knowledgeable team!!! We had the ultimate charter fishing day!! Thanks again Tony and Garrett! You are the best!
Jan 7, 2022
Another awesome weekend!
Just another perfect day! Fishing with Capt. Tony and First Mate Garrett is an incredible experience. They were both good To my boys and kept them more than interested even between catching fish. Would definitely recommend.
Jan 7, 2022
I had an amazing time on Captain Tony's boat and managed to reel in a 20lb King Salmon! Easily 10/10 for the great fishing experience. Highly recommend and will definitely have to come back.
Jun 25, 2021
Thankful
Captain Tony & first mate Tony were primo from the initial phone call months before the trip all the way to the end when Captain Tony filleted and cleaned the ten fish catch!
11/10, A++ for Reelin' Leland, Captain Tony and first mate Garret!
This team is the REELIN' DEAL!
Jun 14, 2021
Amazing time fishing
My family booked an all day trip with capt. Tony and he was very accommodating as we broke it up in two groups. We limited out on Lakers and then went after salmon. The second trip we brought in a 10lb steelhead. Garret Tony's first mate was on top of things and even kept my granddaughter interested answering her questions. I highly recommend Reelin Leland charters if you are looking to book a charter trip
Jun 2, 2021
Boat limit
Great captain. Best 1 1/2 he in awhile, With Good friends, good fishing .
Jun 1, 2021
Captain Tony is the ultimate professional. You will not be disappointed! If you want to have a great time with family and friends look no further!
Jun 1, 2021
Fishing
Wow 1.5 hours we had 120 lbs of Lake Trout awesome! Captain Tony! Great time.
May 21, 2021
Awesome trip
I've been on this charter 5-6 times this last time with my 7year old daughter and captain Tony and his first mate are always amazing. He is very informative and awesome with kids and adults this guy is a real Michigan fisherman and knows how to get on the fish . I would defiantly recommend and 10 out of 10 for him and his crew !