Lake Michigan Fishing Charter Reviews
Don't just take our word for it, see what our past fishing charters guests had to say about their experience with Reelin Leland Fishing Charters on one of the review sites listed below, or leave us a review on this page below the links, to provide us with your valuable feedback!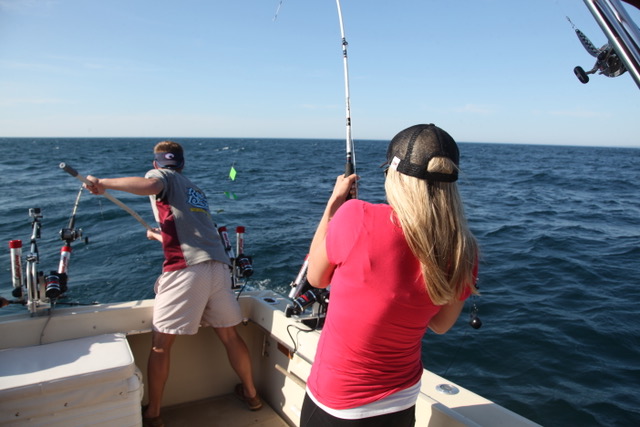 Any questions? Give us a call at 231-866-0053 or fill out the form on our contact page.
View Our FishingBooker Reviews
Reelin Leland Fishing Charters
Average rating:
26 reviews
Aug 2, 2023
Fishing with Amy
Thanks for all your help, Tony. I talked to Amy today and she was thrilled by your entire crew and how they treated her granddaughter. We appreciate you skill and professionalism. Thanks.
Mike,Amy and her granddaughter have caught a few Lake Trout and a King Salmon! So far. Looks like West Grand Traverse Bay is showing off how spectacular a sport fishery it is!
Jun 28, 2023
Great trip
Captain Dylan and Captain Tony were both amazing. Our boat caught some huge fish and had an great time. Both captains were super nice and great to have conversations with. I can't say enough good things about the experience and Captains.
Jun 28, 2023
Can't Say Enough Great Things
Had a blast with Captain Tony and Chris. The lake was rough and throughout the trip they kept checking with us to make sure we were comfortable with the conditions. All charters want you to catch fish but they went a step further in making sure the whole experience was unforgettable.
Jun 28, 2023
Awesome trip
My son and I went out on Grand Traverse Bay with Dylan. Had a great time. Caught six trout and one very large salmon. Captain Dylan was friendly and very knowledgeable. We caught our first fish within 15 minutes of dropping our lines in the water. He explained to us where we were fishing and that he had success in that area before. When we docked, he cleaned everything up and helped us with our gear. What a great time, 10 out of 10.
Jun 28, 2023
Fun Time on Lake Michigan
6/25/23 The bad weather held off so we could have a wonderful afternoon catching Lake Trout on the big lake. Everyone in our group caught one—GREAT!! I was truly impressed with the constant checking and adjusting of boat speed, line depth, tackle choices needed to make those fish get caught. Thank you Dave for helping me land my fish.
Jun 28, 2023
Best day ever
Caught lots of fish and was overall an amazing time! Crew was awesome and hilarious! Best fishing experience!
Jun 28, 2023
The great captains Tony Dylan
A life changing experience. These captains are top of the line. They will show you how this should be done. An amazing experience thanks to these captains.
Jun 11, 2023
Excellent trip
Had a great Saturday morning with Dylan working hard to make the most of our time. Limited out on lake trout and even hooked a king salmon! Can't wait for next time.
Thank you we had a Great time fishing with you.file:///var/mobile/Library/SMS/Attachments/26/06/6886703C-6552-4903-A20E-4747E6AE6284/IMG_8844.HEIC
May 30, 2023
Best Sunday Fishing
Had a great morning with Captain Tony and Captain Chris! Kyle, Nathan, Ben and I boated 6 great fish, with 2 of them being beasts!
We had plenty of laughs a certainly made some great memories, thanks again!
May 30, 2023
Amazing Experience
I was a part of a group of six for a bachelor party. Captain Tony was great and gave us a wonderful experience fishing. We limited out for lake trout in under an hour.