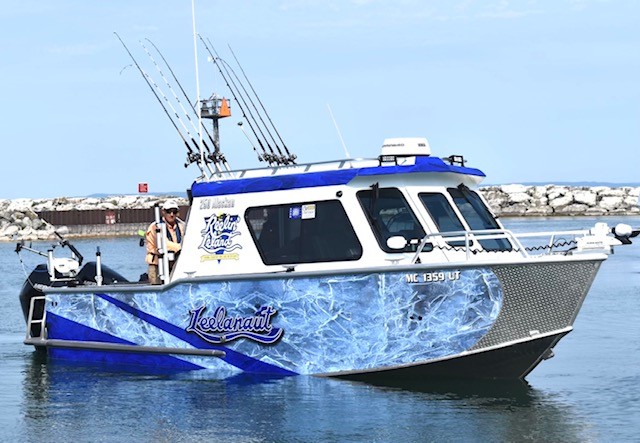 Book a Leland Fishing Charter with Captain Tony Today!
The port of Leland is for the adventurer that wants to experience the wide open waters of Lake Michigan. We will meet at the Leland Harbor Boat launch ramp, near the flagpole, at 107 N. Lake Street, Leland, Michigan 49654. Then we will fish in the Manitou Passage and around the Manitou Islands, which provides various habitat for all the cold water species we target. You will definitely have a chance to catch a fish of a lifetime.
When the fishing is over and you've returned to harbor your fish will be taken to Carlson's Fishery  to be filleted, deboned and sealed in shaved ice. If you would like to have your fish prepared for you,  the Cove Restaurant is just a short walk from Carlson's Fishery.  Both Carlson's Fishery and the Cove Restaurant are independent businesses that will charge you for their services.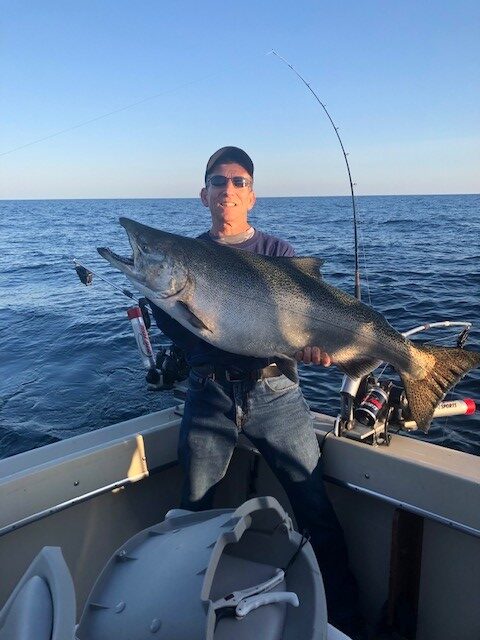 Choose Your Own Fishing Adventure
Whether you're a hardcore fisherman in search of a trophy fish, just out for a fun time with family and friends or something in between, we've got the perfect trip for you. See what everyone is saying about us on TripAdvisor , Google , Facebook and Yelp. Check out the options below and book your Lake Michigan charter fishing trip today!
Half Day Salmon Trip out of Leland Harbor
Morning half day salmon trips from LELAND will typically start at 5am. These trips are for the experienced angler looking for an offshore adventure on a schedule. We will run out offshore to the Manitou Islands early and focus on the early King Salmon bite.
– HALF DAY SALMON RATES –
1-4 persons = $675
5 persons = $750
6 persons = $825
Full Day Excursion
This 9 hour salmon trip is for the adventurous angler and crew. We will leave early in the morning to get the best bite as we head offshore to fish near the Manitou Islands. Pack your good attitude and a cooler because the action will be hot and we don't return until dinner time. We will focus on King salmon and take advantage of the multi-species sportfish Lake Michigan offers.
– FULL DAY RATES –
1-4 persons = $1100
5 persons = $1225
6 persons = $1350
Half Day All Species Best Bite Trip
Morning half day all species BEST BITE trips are most common best suited for the family or friends enjoying fantastic action packed fishing for the multi-species sportfish Lake Michigan in known for. We will typically start between 5am and 8am. Afternoon half day trips are always all species best bite trip that will typically start between 11am and 1pm. Start times depend on the time of year, the target species, and the current "bite". All half day trips are 5 hours in duration.
– HALF DAY ALL SPECIES BEST BITE RATES –
1-4 persons = $650
5 persons = $700
6 persons = $750

Looking for things to do while visiting Leland? Check out our Fishtown & Leelanau area info page for lodging recommendations, restaurants, and other area attractions!
Request A Fishing Charter in Leland