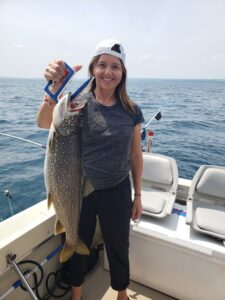 Reelin Leland Fishing Report – June 26th, 2023 Leland fishing report
This morning we headed out to the north side on North Manitou from the Leland Harbor. It was foggy and a little wavy as the wind from the night before had really caused some high waves. We set up near the North Island, same as on Sunday, and put out most of the same baits. David set a Moonshine standard Wonder Bread RV glow spoon on the port downrigger set at 60 feet. This was hit before we got all the lines in the water. We took a small King Salmon. About 6:30am the starboard wire diver set with 120 feet of line out with a Moonshine magnum Green Knight spoon went screaming out pulling drag and pumping the rod hard.
Heather, her 1st time salmon fishing, had on the fish of a lifetime. While fighting this King the Starboard downrigger set at 60 feet down with a Beavers Lures Alien Breath magnum lure went off screaming out line as well. We had on 2 very nice Kings. While fighting these two Kings the 6-color lead core with moonshine half-baked happy meal was hit as well. We had a good old fashion triple to deal with. We only got 2 of the Kings to the boat. 3 King salmon crisscrossing made for a lot of action on the back of the boat. Heather's fish ran into the 250 copper, and we were able to land an 18 pound King. Sam had the other King still on the line. When David went to net Sam's fish the net hoop disconnected from the pole. We had a net hoop and an 18 King still on the line. We were able to get them back to the boat and scooped them in with the second net. After we managed the tangled lines and got set back up we had a large King back on the port downrigger with the Wonder Bread spoon that unfortunately for Joseph came off. The next King took the Alien Breath spoon from the starboard downrigger. We ended up 3 for 6 on the Kings.
We picked up lines and moved to the Lake Trout grounds on the Channel Bank. We went 5 for 7 with the 6 of the Lakers hitting the Hammerhead #5 Lake Trout Killer cowbells with the Pink Luminous Spin-n-Glow. The Dreamweaver 10 inch Dragon Slayer Spin Doctor with Green Glow Whirly gig took the other Laker.
Reelin Leland Fishing Charters
Average rating:
0 reviews