The 1st Week of June Fishing Report 
The fishing was very good this past week.However, I think it will only get better as Spring turns into Summer. This report is a recap of my last five fishing trips. It has been a busy week fishing as well as having to negotiate a settlement on my truck that was rear-ended last month. Enough with that, let's get on with the fishing report.
Last week Sunday Dylan and I went out with some friends in the morning on a scouting mission to find some King Salmon. We did pretty good we were able to find some nice Kings, large Lake Trout, and a lot of hits where fish came off. We set up the boat trolling 6 side planner boards with spoons. Dreamweaver's Rasta Goose was a hot spoon on a 6-color lead core. We also set up 4 diver lines and 2 downriggers to complete the spread and hoped for the best. We did pretty good. We ended up with 5 for ten 4 King Salmon and one Lake Trout.
Other boats were having success on Moonshine's standard Green Knight. I didn't have any, but now I have ½ dozen. Monday morning I had a crew of three from southwest Michigan. We only fished for King Salmon. We had 8 hits and landed 4 Kings. Again, Rasta Goose had 4 hits and took 2 fish.
Friday late afternoon we took out a crew of six. We started on the Playground targeting Lake Trout. It took a bit of time to find the fish. No hits in the first 90 minutes. After a tip from another captain, we located the Lake Trout and we had 6 in the boat in about 45 minutes. We decide to pick up lines and move to the "Crib" the lighthouse that marks the south shoal of North Manitou Island. We put our spread of 13 lines including 6 side planner boards, 4 dipsey diver lines, 2 downrigger lines and one stern planner line. We trolled until 9pm and had to call it. While pulling lines we hit a double on the side planner boards, they were both Lake Trout, one on Rasta Goose and the other on Moonshine's green and white flounder.
Saturday morning, I was fishing on the Leelanaut from Leland and Dylan was fishing on the Leelanautical on West Grand Traverse Bay. We each had limit catches. I set up on the "Playground" and fished two downriggers with Hammerhead Cowbells with Spin-n-Glo's and a 5 color with Stinger standard PK Special spoon, the hottest bait of the day, and we landed 10 larger Lake Trout and had to release 2. Dylan was able to land 4 Lake Trout and nice King Salmon on West Bay from Traverse City.
We both had afternoon trips, I caught a limit of 12 Lake Trout and Dylan was 9 for 11 on the Lake Trout. I said Stinger's PK Special on a 5-color lead core was the hot bait of the day, it caught 9 fish on Saturday.
This morning was cold and windy. However, John and Liz were up for fishing. We left the dock in Leland at 5;30am. The walk over to the launch at Leland Harbor from the Falling Waters Lodge was very short. We loaded them up and headed out. There were 4-to-5-foot rolling waves, but they wanted to give it a shot. We head north into the waves about 4-5 miles and set up on the north end of the "Playgorund". We trolled south, more of a controlled drift, due to the north wind. Our two downriggers were very effective. The port downrigger had the Hammersmith Lake Trout Killer #5 cowbells, and the starboard downrigger had the Hammersmith all chrome #4 cowbells and both had on a Pink Luminous Spin-n-Glo. The chrome setup took 3 Lake Trout, one of which was fought and landed by the 1st mate, and the Lake Trout Killer took 2. All five were very nice and full of Round Goby. It was a great and short trip as it was too rough to head over to North Manitou Island to look for King Salmon. Fishing is getting good. We still have openings for June and July, please give us a call. I hope to see you on the water.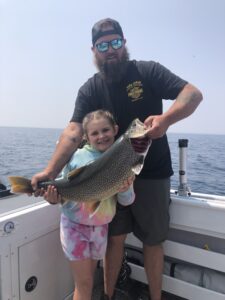 Reelin Leland Fishing Charters
Average rating:
0 reviews