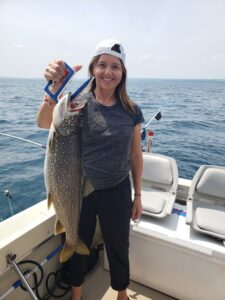 Fishing on West Grand Traverse Bay has been very good the past week. We are finding Lake Trout on many of the popular banks. The west side from Red 8 to the white wall has provided excellent mixed bag fishing. Lake Trout are hitting cowbells with spin-n-glows, Dreamweaver spin doctors with spin-n-glows, and standard size spoons run off the down rigger or 5 or 6 color lead core rigs. The southwest side of Powers Island near the green bu
oy has been pretty good as well using a similar set up has been good. On Monday Chris set up in 100 feet of water working into about 70 feet of water. The 1st downrigger set with green cowbells and a chartreuse spin-n-glow was hit right after it went down. By the time that first Lake Trout hit the ice of the cooler the 10-color lead core with Dreamweaver Rasta Goose took the second fish of the day and the trip was off to a successful start that ended in a limit of Lake Trout.
Other spots like Red 6 is no different. If there are bait fish the Lake Trout will be found. There are also some King Salmon in the B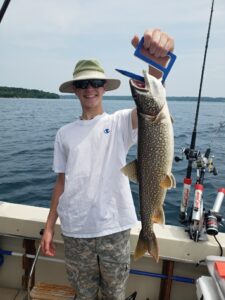 ay, it seems early this year, none the less it is a good idea to put out some of your favorite spoons like a Beavers Lures Alien Breath.
Grand Traverse Charter Fishing at Reelin Leland is always a good time for family and friends to spend time together having fun catching fish. Check out a couple successful anglers from this week's fishing
Reelin Leland Fishing Charters
Average rating:
0 reviews