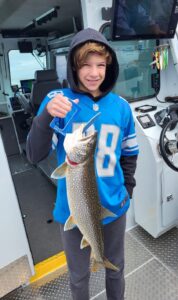 The 2023 fishing season has started. Up here in northern Michigan the fishing has been good, we have been able to get out. I have run a few shake down trips with friends and family. The Leelanaut, a Hewescraft 250 Alaskan, is running well. I have added a few new rod holders, tackle storage, and odds and ends. I am confident that the 2nd season with her will be better than the first. The Leland Harbor mouth was dredged out late last month. A big thank you to the crew Jimmy M., Jeff N., and Jeremy A. They always do a great job getting the harbor ready, so we have safe passage from the harbor to Lake Michigan and back again. This year is looks like Lake Michigan is lower than last year.
The Leelanautical has had her drydock inspection and passed with flying colors…what else would you expect from a Tiara 2700 open. These boats have been on the Great Lakes for decades and when well maintained they are safe, reliable, and dependable. We hope to launch her in the next day or so…the snow forecast for early this week kept her in the barn. Captains Dylan and Chris are excited to get her out and shake er down. We will need to ensure all systems and fishing gear are good to go. All should be ship-shape in a couple days if the weather cooperates.
Both the Manitou Passage and West Grand Traverse Bay are productive areas to fish. We are so lucky to have so many visitors to the Leelanau Peninsula and we are happy to take you and your crews fishing so here is to a fun and exciting 2023 fishing season.
Reelin Leland Fishing Charters
Average rating:
0 reviews