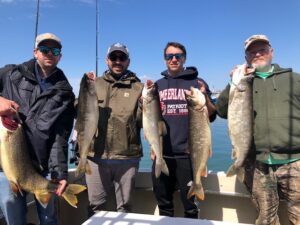 The Spring fishing on the Leelanautical has been outstanding. I want to thank all my customers for some incredible adventures chasing and catching a lot of big Lake Trout, salmon and steelhead so far.
This Spring has been good for Steelhead, we have caught more this year than in past years.
The spring run of Kings started on Memorial Day, which is a little earlier than in the past.
I look forward to the Spring of 2022. I know that the fishing will be even better than in 2021.
Now that Summer is a few days away we will look forward to a strong Lake Trout fishery and we will keep hunting for the Kings. Both the Manitou Passage and Grand Traverse Bay of Lake Michigan are top of the class areas to fish. Call at anytime for a fishing report. We are always happy to talk to all who are interested in fishing the big water.
Capt. Tony Radjenovich
Reelin Leland Fishing Charters
231-866-0053