Reelin Leland Charter Fishing – Leland Fishing Report
The North Manitou Island has been holding some nice salmon for those that take the ride out to the Island. There is not a large school of King Salmon swimming the depths or shallows near the north shore of North Manitou, however there are enough to have a decent trip and possibly catch the fish of a lifetime. The Spring Lake Trout fishing grounds we affectionately call the "Playground" is coming to the end of its hot streak. As I have said many time
s May and June are for catching monster Lake Trout from the Port of Leland. Now that we are closer to July, we can see that the schools of Lake Trout feeding on the round gobies living amongst the rocks and boulders scattered all over the "Playground" will be following the round gobies to deeper waters. With that said, the change allows us opportunities to fish different banks and deep-water flats where we will find electrified reel screaming sport fish.
The morning trip on Sunday took us out to North Manitou Island chasing the mighty King Salmon. We only had 5 chances and were lucky to land four nice King Salmon. We had two fish bite the Beavers Lures Alien Breath set at sixty feet down. The other 3 bites came on the 5-color lead core with a standard Stinger PK Special spo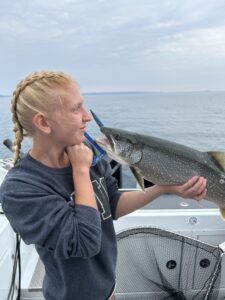 on. This spoon has been hot for both King Salmon and Lake Trout. The best of the day was Dale who landed a nice 20-pound King and Nick landing a respectable young King, ask Nick to tell you about the one that got away…it was big…On PK Special on the 5-color lead core. The morning trip was a great success, and all were happy to land a King.
The afternoon trip had a family celebrating a birthday trip for Jim. It was Jim's present but everyone else caught a fish before Jim. Jim caught the last fish Just as are time came to an end. However, the trip started looking for Lake Trout on the "Playground" where we only had two bites, the first was on the 5-color lead core with Stinger PK Special stand spoon. The second was on the downrigger set at forty feet down with the Dreamweaver Dragon Slayer 10 Spin Doctor with a Dreamweaver Whirlygig Green/glow. We then moved to de
eper water and pick up two more on the 10-color lead core with the Stinger PK Special standard size spoon and two on the downrigger with Hammerhead Lake Trout Killer cowbells with a pink luminous glow Spin-n-Glow. It was a very good afternoon trip, and we were able to miss the rainstorms predicted for the afternoon. Fishing is fun to get out on the lake and catch some fish.
Reelin Leland Fishing Charters
Average rating:
0 reviews