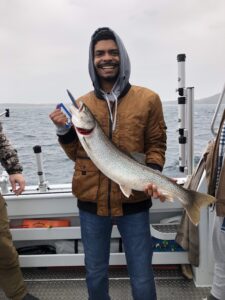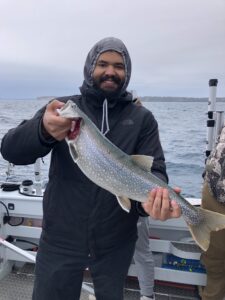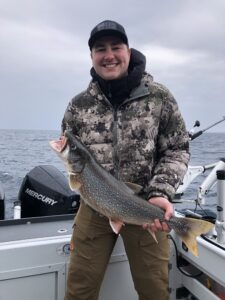 Today was a great day to be fishing on Lake Michigan from the port of Leland. Fishtown was relatively quiet as far as visitors are concerned, but the fishing was good.
Today was windy, cold, and raining however the fishing was hot. Today we left late in the morning with James and his groomsmen. We would like to wish James a long and happily married life. However today was about spending time with his buddies as James knows that the demands on his time will change as he and his wife to be share there life together and maybe start a family. We were proud to have James on board today and want to thank him for his service as a Detroit City Firefighter.
We got out to the 1st bank from Leland and the wind was blowing 25-30 miles and hour which made it feel like it was raining much harder than it was, thank goodness for the Wallas heater that kept the cabin warm. We only set 4 rods today, 2 downrigger rods and 2 leadcore lines on the side planer boards. Starboard downrigger was set 45 feet down 50 feet behind the cannonball with a #5 Hammersmith Lake trout killer cowbell and a luminous spot pink spin-n-glow this had two hits one fish (the hook broke off sometime after the 2nd hit and we don't know how many other fish may have swiped at it but there was not a hook to catch them). The 7 color leadcore on the starboard side was the 1st line to get hit. It was a large, beautiful Lake Trout. This line had two hits and two fish landed. The port downrigger was set 45 feet down and 50 feet behind the cannonball was a 10-inch Dreamweaver Chrome Frog Spin Doctor with a luminous pink with glow wings spin-n-glow this had 2 hits and took one fish. The port side planer board was the best setup of the day. This was a 6 color leadcore line with a Dreamweaver 10 Dragon Slayer Spin Doctor with a luminous pink with glow wings spin-n-glow. This had 7 hits and took 6 fish. We fished for about 2 and a half hours and headed back in to get out of the rain. Awesome day of fishing. I would like to thank Wyatt for setting up the trip. Hope to see you all again soon.
Reelin Leland Fishing Charters
Average rating:
0 reviews